BPBAP Situbondo, Home of Hybrid Grouper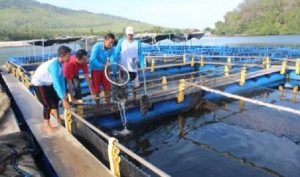 Situbondo is proud to be the center of the largest grouper seed producers in Indonesia and Southeast Asia!
Grouper fish is one of the products of cultivated fishery commodity with high economical value, both in the regional and international market. Indonesia produces grouper fish in the form of seeds (3 cm), fingerling (3-12 cm), and consumable size (400-1200 grams/piece).
The market demand for this grouper fish keeps increasing from year to year. This triggers intensive and extensive exploration and exploitation efforts of grouper fish resources.
The government's support and policies for the development, adoption, and implementation of the applied technology on fish cultivation to create a business climate suitable for development is one of the mandatory factors needed to support a sustainable aquaculture system. If this goes well, then the prosperity of the cultivators will be achieved, thus in turn creating sovereignty in the field of fishery.
This support on cultivation technology which covers the 3 pillars of national development is the backyard hatchery system. This activity begins from the preparation of cultivation tools, water preparation system management, natural feeds production, seed distribution, larvae rearing management, and environment management.
The Association of Brackish Water Cultivated Fishery (BPBAP) of Situbondo has been known as the home for grouper fish. This is especially true since almost all types of grouper fish are cultivated and developed in this association, even the type known as the hybrid grouper.
The head of BPBAP Situbondo, Ir. Ujang Komarudin, M.Sc, said that there are two main commodities in this association; grouper fish and vaname shrimp. The grouper alone is already well-developed, and BPBAP Sitomondo is now able to develop a hybrid between the giant grouper and the brown-marbled grouper, which is known as Cantang grouper.
This hybrid Cantang grouper has many superior traits, Ujang said, namely its super fast growth rate. "Previously, cultivators would need one-year time to harvest groupers. But with this hybrid, the grouper fish for consumption is ready to be harvested and marketed within only 5 to 6-month time," Ujang said.
Aside from Cantang grouper, there another hybrid between the brown-marbled grouper and camouflage grouper, known as the Cantik grouper. This grouper also has superior traits, namely the rapid growth rate and resistance towards diseases.
There is even a hybrid between the humpback grouper and the giant grouper, known as the Tiktang grouper. However, this type of hybrid is yet to be released to the public. In regards to grouper hybridization, BPBAP Situbondo is considered a pioneer. Ujang explained, BPBAP Sitobondo owns highly productive parent groupers, be it the brown-marbled, humpback, giant, and camouflage grouper, which have been used by cultivator communities, especially those within the Situbondo territory.
Until this day, there are approximately one hundred household scale hatcheries in Situbondo that produce grouper seeds. Ujang stated, BPBAP Situbondo supplies at least an average of about 50 million eggs monthly to buyers. These seeds from Sitobondo are spread all across Indonesia, and even exported out of the country.
"Because of Sitobondo's achievement as the center of the largest grouper fish producers in Indonesia and even Southeast Asia, the local government ordained Situbondo as the City of Groupers," he said.
Overcoming Limitations
The Section of Technical Application Test and Coordination of BPBAP Situbondo, Iwan Suwandono Adhi Setyawan S.Pi, said that BPBAP Sitobondo owns 5 installations (Pecaron, Gelung, Tuban, Pasuruan, and Gundil), each of them with cultivation tools and facilities in need of improvements.
"Until today, only Pecaron installation has met the standard. The other four installations still need to be improved and optimized," Iwan added.
As a response, Ujang expressed BPBAP Sitobondo's wish to add floating sea cages, if permitted. This is because the existing land in Sitobondo is getting more and more limited and expensive. Therefore, sea cages are needed to develop the production of the types of fish which can be reared in sea cages such as grouper and some types of pomfret, and even milkfish.
"Even vaname shrimps can also be reared in sea cages. We only need to develop the technology if we have the opportunity to add more rearing sea cages for fish production," Ujang said.
The fact is, Indonesia in not at all behind in terms of fish cultivation activities. For almost all types of commodity, the government already has its own specialization in the development of each commodity. BPBAP Situbondo hopes the government would keep adding the sea cage tools in Situbondo in order to keep developing the cultivated fishery industry in Situbondo.
Rearing in Floating Sea Cages
BPBAP Situbondo has been using HDPE floating sea cages from Aquatec since 2014. At first it was only for brackish water cultivation in ponds, but now BPBAP Situbondo has conducted marine expansion because many top commodities are reared in the ocean.
For a sustainable commodity development, BPBAP Sitobondo currently has 66 Aquatec floating sea cage spaces located in Pecaron. Ujang added, the entire grouper fish rearing processes are done in the sea cages.
BPBAP Situbondo's Aquatec floating sea cages are also used for potential parent fish. There are three units of Aquatec round sea cage with 10-meter diameter, one of them used to rear milkfish potential parent fish which is known to be fast and active swimmer.
"We also plan to cultivate big scales of vaname shrimp in sea cages, but it is still under feasibility study," he added.
The first engineer of BPBAP Situbondo, Dony Prastowo, S.Pi., said that the use of Aquatec floating sea cages has been extremely helpful in the nurturing and rearing of prospective parent fish. One of the advantages of Aquatec sea cage is its sturdy and environmentally friendly material. The sea cage need to be positioned offshore in the high seas and not in bays, therefore a strong sea cage that can withstand high waves is needed.
In agreement with Dony, Ujang stated that Aquatec floating sea cage is reliable in terms of its durability. In addition, it is also easy to handle and maintain, hence it does not burden cultivators with complicated maintenance procedures.
Aquatec floating sea cage has been used as a model for the people around Situbondo who want to learn about doing cultivation using HDPE sea cage, since the majority of the people there still use traditional sea cages made out of wood.
(Resti/Adit)
Incoming search terms:
– Grouper fish hatchery system in Situbondo
– BPBAP Situbondo
– Cantik grouper cultivation
– Cantik grouper cultivation method
– Cantang grouper fish
– Grouper fish cultivation method in Situbondo
– Cantang and camouflage grouper cultivation method in BPBAP Situbondo
– Kustang hybrid cultivation method
– Hybrid grouper cultivation
– Situbondo grouper cultivation